Curbside Chaos' Yard Makeover
This post brought to you by Bulbs. Dig, Drop, Done.. All opinions are 100% mine.
Do you want bulbs in your garden? Check out Curbside Chaos and you will be inspired on planting  bulbs. Watch this video below to see the lucky winner of their yard makeover and how they turned her backyard to a beautiful garden that will make her neighbors jealous.
This is awesome right? I'm jealous of the winner. If I won the $5,000 yard makeover, I would hire a professional who can arrange a rock garden terrace on our front yard. I also wish that our tall spruce tree and bushes on the front will be taken out and replace them with mini topiary spirals. How about you, what would you do if you won?
Speaking on Curbside Chaos, let's help them continue what they're doing in donating $1.00 to Rebuilding Together by tweeting on Twitter like this: Help Raise Money for Rebuilding Together! RT #CurbsideChaos "Bulbs. Dig, Drop, Done."  donates $1.00 to their charity! via @HCofaMama
Bulbs go way beyond just gardening. They make perfect gifts! I used to plant tulip and daffodil bulbs to some spots on my yard during Fall so I can admire their flowers that blooms on Spring. If, you're interested to plant bulbs, have you tried to visit www.digdropdone.com to learn more about what types of bulbs would grow in your area? It is important to research about it so you won't feel frustrated in planting bulbs. Check out this garden guru tool on their homepage. Here's how you are going to use the tool:
Step 1 – Pick your Country
Step 2 – Pick your location within that Country
Step 3 – Choose the type of bulb you want to grow
Step 4 – Check out the Planting Guide that shows you how to plant your bulbs.
Here's the screenshot of the tool below: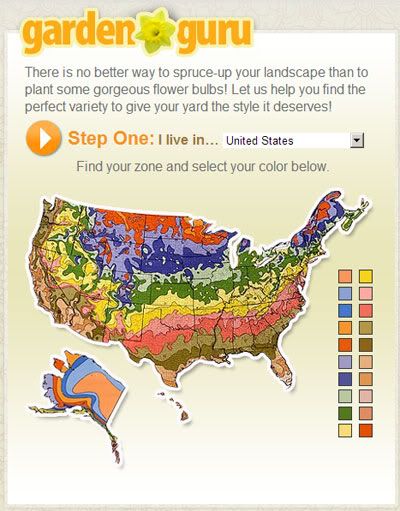 You will also be inspired to read about the three ladies, featured on their site, who are brand new to bulbs here: http://www.digdropdone.com/about-us-the-ladies.html
Among the three ladies, I can relate to Marcy's testimonial that she garden when she have time and knows a little about bulbs, but she's hardly an expert.
I like her creativity when she used color coding on planting tulip bulbs. She let her kids pick the bulbs that are their signature color and that they enjoyed digging the ground and planting the bulbs one Fall. She saw how beautiful the tulip blooms were one Spring. She didn't mind how her kids arranged the tulip bulbs on her backyard. She felt very happy everytime she saw each colors of the tulip blooms which reminds that her three kids enjoyed planting them on the Fall. Her story gives me an idea that I should color code the tulip bulbs that my toddler and I are going to plant this Fall too!How about you, are you ready to plant bulbs this Fall?