White Chocolate With Butterscotch Fudge Wreath Recipe
I really love the result of making this white chocolate fudge wreath the second time. The first time I made it, I didn't add butterscotch chocolate chips. The second time I made it, I added butterscotch chips and it turned out so good!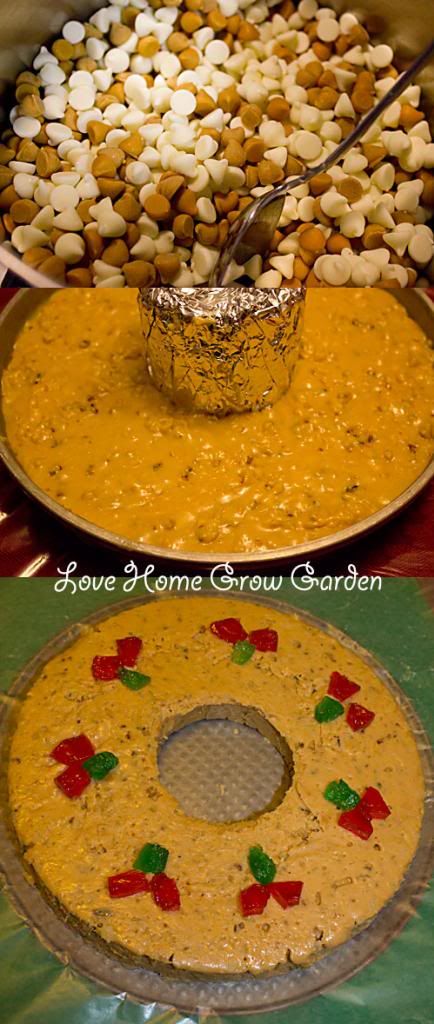 You might want to make this fudge wreath too! It's so easy and nice to bring on family affairs and parties. Here's what I did. For a thicker fudge result, use an 8 inch round cake pan. Butter the bottom and sides and set aside. Turn on your stove to low heat and heat a 2 quart pan. Pour one pack of white chocolate chips (one bag is 12 oz) and pour next a one cup butterscotch chocolate chips and mix them together. They melt so fast so mix quickly and add one 14 oz can of condensed milk. Save the empty can and wrap it with foil so you can put it at the center of the round cake pan (it will be the hole of your wreath). It's up to you if you mix nuts or not, but I added one 8 oz pack of chopped walnuts and one teaspoon pure vanilla extract. Once everything is mixed (don't cook it too long), gently pour around the empty condensed milk can inside the round cake pan. Cool inside the refrigerator for an hour or two. You can cut red candied cherries into two for holly berries and use green candied cherries to cut into quarters for leaves. I used candied pine apple on mine which is a little different. Design on top of your fudge wreath and Enjoy! I'm sure many of your folks will love the texture and taste of your homemade fudge! Let me know how yours turned out if you do try my recipe. Good luck!