Energy Efficient and Food Money Saving Tips for Home
I like to find ways and practice smart tips for our home energy use, grocery shopping and eating nutritious food. We may be living in our house for 6 years now (short for some people) but we learned quite a few! It's never easy to run a household but the key to be successful in running it is to be determined in nailing smart tips!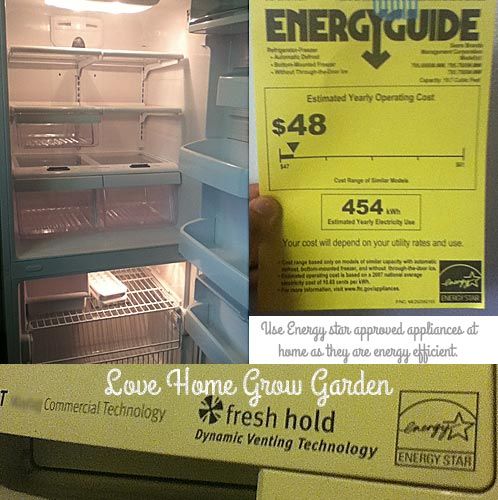 So what are the smart tips? I have a few that we're practicing at home. I read that the appliances that consumes lots of energy in a house are the refrigerator, dishwasher, washer and dryer. We bought Energy star appliances such as our washer and refrigerator. The thing about Energy star appliances is that they are energy efficient other than leaving less carbon footprint in the air. If you have electric heating at home, that too can consume lots of energy in the winter. We're using a hot water that runs on gas heating system in our baseboards during winter. It saved us money to use little energy but the gas bill does goes up during winter but not on late spring, summer and early fall. We also started living in a small house and a lot that has big space (enough for us to do gardening and play cricket in the backyard) although it's not an acre which means less mowing in the summer.
We love to eat fruits and berries! It's hard to buy fresh fruits every grocery shopping as they are expensive and most of them are not in season during winter. We buy the frozen berry mix and veggies instead. The thing about frozen fruits and veggies is that they are cheaper and has the same or more nutrient content than fresh fruits. They stay longer in the freezer than fresh fruits which will stay fresh in 3 to 7 days. Definitely a money saver tip too!
During summer, insects are a big problem in our garden. We avoid using chemical spray and stuff like that in protecting our plants. We use netting instead and less insects penetrate inside the netting. We harvests lots of blueberries, raspberries, apples and pears that we freeze and home can every year. It's delicious to eat them fresh straight out from the garden. Smile.
I also found out more tips for an eco-friendly home today from Direct Energy. I like their list as it's very practical and easy to follow when it comes to using energy more efficiently. About Direct Energy, they are introducing their new meridian savings plan where you can get 3 free thermostats, competitive price for fixed energy charge and a smartphone app to control your thermostat anytime, anywhere. Ain't that a neat option? I wish our thermostats are wifi and app friendly too so we can save and money for gas and time when using and not using heat.
How about you, would you share to me your smart ideas on how to be eco-friendly too?
Disclosure: Thanks to Direct Energy for sponsoring today's discussion.